Model 2500 Zero Clearance Cabinet
No fireplace? No problem.
With the High Valley "zero clearance" to combustible materials. Unlike masonry construction, the ZC cabinet and insert combination requires no special foundation or support. Where space is an issue, the cabinet can be installed in an external "chase", thereby saving floor space. Decorative options and styles can be chosen just like any normal Model 2500 fireplace insert. Choose from any 2500 Surround style to best match your living space and start heating efficiently today.
For more details: Download Zero Clearance Installation Manual | 780k PDF
Photo Gallery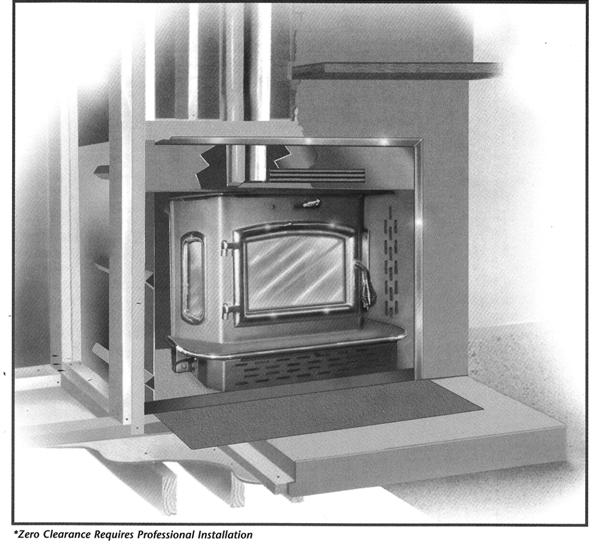 Detailed Information
| Â Â Specs | Â Â Details |
| --- | --- |
| Â Â Floor Strength | Â Â must support at least 600 lbs. |
| Â Â Framed Opening | Â Â 52″ wide, 37.25″ high, and 28″ deep |
| Â Â Framing Header | Â Â double header 12″ above cabinet if load bearing |
| Â Â Combustible Floor Covering | Â Â must be removed, including under Hearth Extension |
| Â Â Finished Front Wall | Â Â flush with cabinet |
| Â Â Adjacent Side Walls Clearance | Â Â 12″ from outer edge of surround |
| Â Â Hearth Extension | Â Â 16″ deep and 52″ wide minimum |
| Â Â Hearth Extension Material | Â Â Micore CV230 | k = .43 |
| Â Â Clearance to Side Walls | Â Â 12″ from outer edge of surround |
Go to the "High Valley 2500 Insert page for more details about stove performance and specifications.