Fireplace Inserts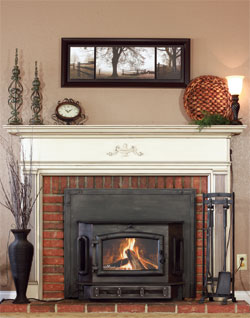 High Valley Stoves by Stoll has two stove models available as fireplace inserts. Fireplace Inserts are essentially the same as our freestanding wood stoves, but include a Surround kit to frame off the fireplace opening. It is important to note that your fireplace will allow the proper clearances on all sides of the stove.
Both the 2500 & 1500 are excellent heaters, extremely durable and heavy construction coupled with efficiency and beauty. We offer four different surround kits in two standard sizes, as well as custom sizes and shapes, including custom arch. All our surrounds are precision laser-cut from a single sheet of steel with no panels and seams visible. Standard, Bar Iron, Old World and Blacksmith Surrounds add their own special look to your insert. Pick the one that best matches your home.
Also available are decorative options like rivets, a high-quality hand-rubbed finish, and plated doors that can be combined to add pizzaz to a normally drab insert. Please contact us if you have additional questions and comments.
Download High Valley Brochure | 9MB PDF
Click to view details about each model
Fireplace Insert Models
Zero Clearance Fireplace Cabinet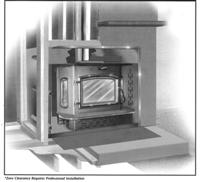 The High Valley Zero Clearance Fireplace Cabinet provides a cost effective and simple wood stove installation for new construction. See your local High Valley dealer for more details, including installation details and stove options.
Download Zero Clearance Installation Manual | 780k PDF